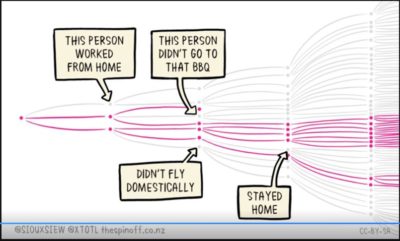 Why is staying home so important?
The success or failure of Australia's coronavirus fight relies to a remarkable degree on just one thing, new modelling has found. And that thing is whether individual Australians now follow official advice — and just stay home.
The data comes from a complex model of how COVID-19 could spread in Australia, which finds:
Coronavirus will continue to spread virtually unchecked unless at least eight in 10 Australians stay home as much as possible.
If that slips even slightly — to seven in 10 people — the fight to 'flatten the curve' will be lost.
It also suggests that school closures have little effect on controlling the coronavirus outbreak.
Researchers at the University of Sydney have built what is effectively a simulation of the entire Australian population using information about where everyone lives, the number of adults and children in each house, how people move around their town or city, and other details such as the locations of schools and airports.
They then essentially add COVID-19 into that simulation, watch how it spreads — and can experiment with how different measures might change its growth.