Bowen Association Australia
Proudly Presents our 5th International Bowen Conference
Brisbane Convention & Exhibition Centre, Brisbane QLD Australia
10 – 12 September 2021 plus Workshops from the 13 – 14 September 2021
Vision For The Future: Bowen – The Therapy of Choice
Vision For The future – The Therapy of Choice. Powerful statement which collectively we can make not only a vision but a reality! Worldwide! So in September 2021 we welcome therapists from around the globe to join us in Brisbane QLD Australia for this, the BAA 5th International Bowen Conference.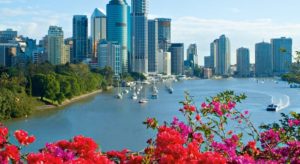 Why Brisbane?
'Beautiful one day, perfect the next!' That's one way of describing Queensland and as the capital, Brisbane is certainly no exception. It is Australia's third largest city and is rightly famous for its amazing climate that is near perfect all year round (can't say that about the humidity in January though!), and its proximity to many of Queensland's major tourist destinations has helped make it into a Mecca for visitors to Australia.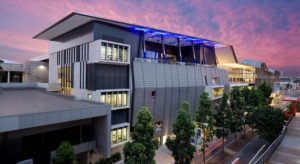 The Venue
The Brisbane Convention and Exhibition Centre, nestled in the heart of Brisbane's South Bank cultural precinct, is without a doubt an amazing place to hold a conference. The BAA committee was blown away by the facilities, operations, support, and professionalism of this venue which is Internationally recognised and current title holder of the world's best convention centre; BCEC is Australia's most awarded meetings and events venue. Their mantra – 'We constantly deliver world class events, our goal is to give clients a seamless experience of the highest standard, taking your event to the next level.'

Attending the Conference
The location and venue are of course incredibly important to the success of a conference, and in the BCEC we have just that, however, the real power, buzz and positive energy experienced from attending an International Bowen Conference is down to the mixing of hundreds of delegates, speakers and volunteers all like minded in sharing a passion for Bowen Therapy (and having a great time! Image from the 4th BAA International Conference, Cairns 2016)
Lock these dates into your diaries – 10 – 12 September 2021 plus Post Conference Workshops from the 13 – 14 September 2021 – and follow our updates in the lead up to the Conference.
Brisbane Convention & Exhibition Centre. Grey Street,
South Bank, Brisbane QLD 4101

World Class Conference Centre:
Internationally recognised and current title holder of the world's best convention centre, BCEC is Australia's most awarded meetings and events venue. The Centre hosts a collection of local and international conventions, working with clients and delegates to present a total event solution. They constantly deliver world class events, and their goal is to give clients a seamless experience of the highest standard, taking the event to the next level. All located in the beautiful and well appointed South Bank area of Brisbane.
The Conference Venues:
The Welcome Reception will be in the beautiful Sky Terrace room; the plenary sessions are to be held in the magnificent Boulevard Auditorium; the Gala Dinner will be dined and danced away in the amazing Plaza Terrace Room and the three workshops which will be held on the Monday and Tuesday post conference are to be held in the well appointed Mezzanine rooms. All in all first class!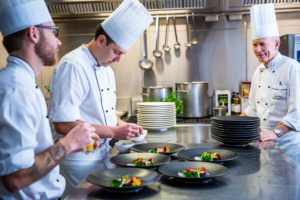 It's Also About The Food!:
We know how the most talked about and no less important part of any conference is the food. BCEC Food Philosophy – Bringing brighter, bolder, healthier food to your event.
The name David Pugh, one of the architects of Brisbane's fine dining scene, is synonymous with inspirational and innovative cuisine. Recipient of numerous hats and awards with his own Restaurant Two, and former Queensland Ambassador Chef, David is now delighting guests at the Brisbane Convention & Exhibition Centre in his new role as Executive Chef. With an impeccable culinary pedigree, David has carved out a stellar career working with some of the world's finest chefs in New Zealand, in the United Kingdom at London's famous Connaught Hotel and here in Australia, where his unabating passion for local produce has provided his inspiration and remains central to his cooking today.
A champion of Queensland produce, David has traveled extensively throughout the state during his four years as Queensland Ambassador Chef, developing a strong rapport with suppliers, which he continues to maintain today. His style of modern Australian is perfectly complimented by the beautiful fresh seasonal produce available in Queensland – the food bowl of Australia. "I believe in letting the food speak for itself by enhancing the natural flavours, using citrus and salsas instead of the more traditional sauces. I would love to see a more plant based menu, where the vegetable is more the hero food," He takes the helm of a team of highly experienced and talented chefs who bring their culinary expertise from all corners of the globe, share a love and enjoyment of food, and delight in creating memorable dining experiences.
But it's not only the Chefs, our entire Food & Beverage Team is passionate about delivering contemporary, cutting edge food, expertly matched with a carefully selected wine. Service excellence is what collectively drives our team in pursuit of delivering the complete dining experience for our guests. Food & Beverage Director, John Gaudin, says his objective is to take dining experiences at the Centre to a new level. "Certainly food is the main component, but the experience is the sum of all parts – it is the high standards of personal service, the ambience, the warmth and friendliness of the hospitality"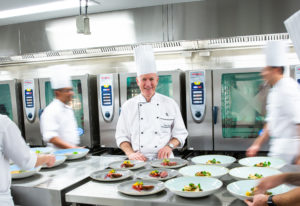 Dietary Requirements
With 20% – 30% of all meals today the subject of dietary requests (medical, cultural and lifestyle choice), it is an increasing challenge for catering venues. Brisbane Convention & Exhibition Centre (BCEC) is tackling the growing trend head on with the establishment of a dedicated Special Dietary Kitchen in a bid to streamline the process, improve the product offering and enhance the dining experience for clients. The Centre caters for all dietary requirements – allergens, religious and lifestyle choices. Up to 25% of all meals served at an event can be classified as special dietary requirements and can result in individual dietary requests for up to 600 or more for some events. Every individual special dietary request is expertly handled by the kitchen and delivered directly to the person. The Executive Chef and the Centre's systems and quality assurance specialists have received training in the identification, handling and labelling of allergens.
Their food philosophy certainly impressed us!
All held within the Brisbane Convention & Exhibition Centre


Welcome Reception
Friday 10 September 2021

Location: Sky Room & Terrace, The Sky Level Blue at the top of BCEC
Registration: From 5.00pm. Registration Desk is located in the lobby of the Sky Room
Meet & Greet: 6.00pm to 8.30pm Enjoy canapes, wine and soft drinks whilst mingling with old friends and meeting new. Opening Ceremony.
Dress Code: Smart casual to cocktail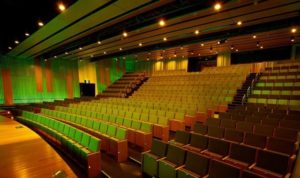 Conference – Day 1
Saturday 11 September 2021

Location: Boulevard Auditorium, Green Level
Late Registration: 8.30am. Foyer entrance to the Boulevard Auditorium
Begins: 9.00am Concludes: 5.30pm
Dress Code: Comfort! Each individual seat in the auditorium has its own adjustable air conditioning vent on the floor, underneath the seat. The auditorium is tiered so no need to crane your head to see over the seat in front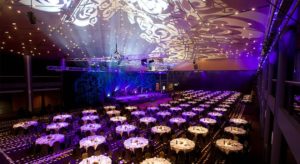 Gala Dinner
Saturday 11 September 2021

Location: Plaza Terrace Room, Red Level
Begins: 7.30pm Concludes around midnight
Dress Code: It's a Gala Dinner so dress up in your finest and prepare to wine, dine, dance and party the night away!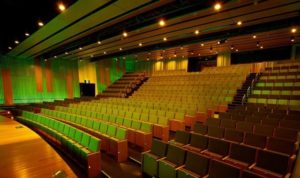 Conference – Day 2
Sunday 12 September 2021

Location: Boulevard Auditorium, Green Level
Begins: 9.00am Concludes: 5.30pm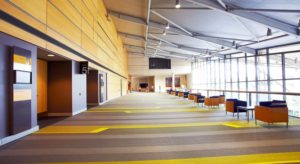 Workshops
Monday 13 – Tues 14 September 2021
Location: Mezzanine Level Meeting Rooms, Yellow Level
Signage: For each workshop at the entrance of the rooms – M 5/6, M 7/8 & M9
Further details under the Post Conference Workshops tab
We are very much looking forward to meeting everyone and ensuring this conference will be a resounding success. So enjoy, party, make merry, have fun, rejoice, learn, discuss, renew, grow, exult, delight, commemorate and discover. Above all, celebrate this time as we look with our Vision For The Future : Bowen – The Therapy of Choice!
Registrations will be available in the near future
Conference Presenters info will be available in the near future
Post Conference Workshop info will be updated in the near future
Everything you need to know about traveling to and around the BCEC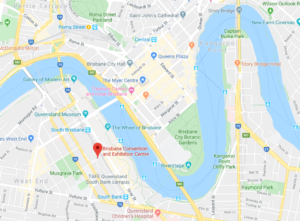 Getting to know South Bank
South Bank precinct is located in the city centre, on the banks of the Brisbane River and home to the Brisbane Convention & Exhibition Centre. South Bank is the city's green oasis and the hub for cultural and entertainment activities offering wide appeal for delegates to mix with the locals and enjoy this unique inner-city riverside precinct.
Key features include:
17 hectares of riverfront parkland including various green spaces and rainforest pockets
Australia's only inner-city swimming beach and lagoons – complete with life guards!
A range of cultural entertainment venues including the Queensland Museum and Australia's newest and largest Gallery of Modern Art (GoMA)
More than 70 sidewalk cafes, restaurants and bars
Weekend markets and weekly activation programs
Riverside walkways and cycle paths
Airtrain connection from Brisbane Airport to BCEC in 20 minutes
Free CityHopper ferry service running along the Brisbane river every 30 minutes
CityCat ferries, train and bus stations all adjacent to BCEC in the Parklands.
BCEC has an excellent webpage with all the information you may require to arrive at the conference. Link below
BCEC Levels
All BCEC floor levels are colour coded for ease of finding your way. The Plaza Level (red) is the link between BCEC on Merivale Street and BCEC Grey Street.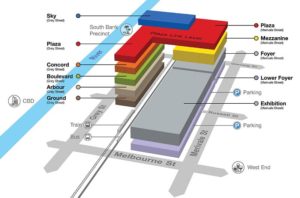 Information Desks & Cloak Rooms
Information desks are located in the Grey Street & Merivale foyers. Here our friendly staff will be able to assist you in your visit to the Centre. Our information desks also offer cloak room facilities for your luggage, bags, prams or coats.
Parent Rooms
Our Parent Rooms feature all you need to feed and change in privacy and comfort. You can find Parent Rooms located on Merivale Street Main Foyer, just behind Merivales Cafe and one located on Grey Street Main Foyer next to the Information Desk. You will also find change tables in all of the uni-sex accessible toilets throughout the Centre.
Accessibility
The link to lots of information on accessibility at the BCEC is below
Go Access Pass
Delegate transport pass is available offering savings on all bus, train and ferry services
Onsite security 24/7
The Centre has around the clock security keeping our visitors safe
Free Wifi
Enjoy complimentary WiFi at BCEC for browsing the internet, checking emails or posting on social media.
Translink Public Travel
Check out public travel options by visiting Translink link below